Miss Vibhoo Bajpai is an Indian artist who has achieved much within a small span of time carrying forward her indigenous legacy of Indian Heritage and Culture. She is counted amongst one of the most experienced youngster of her city Lucknow and her nation, who was honored with National Child Award for Exceptional Award- 2010 by the then President of India Smt. Pratibha Devi Singh Patil, who not only became a proficient performer while growing up but has also tutored more 100 students until now. She has performed extensively across the nation including places like New Delhi, Guwahati, Imphal, Varanasi, Prayagraj, Chennai, Vadodara, Ahmedabad, Ludhiana, Surat, Sultanpur, Chandigarh, Cuttack, Mumbai and many more. She has been giving her Nritya Seva (Service through Dance) at Ramleela Aishbag, Lucknow since 2010.
She has given both Solo and Group performances enormously and made some distinctive choreographies. Out of which some are stated here:
Hari-Har: re-interpretation of Shiv and Krishna through 2 different dance form Bharatnatyam and Kathak Respectively
Navras: Narratives of Indian Mythology that bring out 9 different emotions(Ras)
Shakti: is a unique blend of Bharatnatyam (Indian Classical Dance form) and Kalaripayattu (Indian Martial Art) that recapitulates Devi (Goddess) who is the manifestation energy.
Alankaar Nritya: Re-Comprehending the Alankaar (A figure of speech in the Hindi Language) through poems and songs to make them better understand to youngsters.
Shiv- Vivah: An attempt to re-experience the charm of the marriage of Mahadev and Goddess Parvati.
Krishnotsav: The story of Krishna's birth to his departure from Vrindavan expressed through Indian classical and folk dance.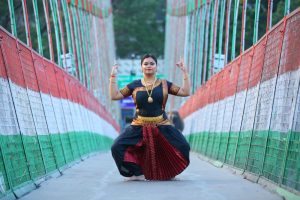 Miss. Vibhoo Bajpai is Disciple of Padma Vibhushan Dr.Sonal Mansingh, M.P. Upper House, Indian Parliament, New Delhi, India since 2011 and has performed extensively with her in several cities. She has gained mastery over Bharatnatyam, Kathak, Semi-Classical and Folk Dance forms and is interested in Singing and composing poetry but other than all this she has also participated in the fields of Sports like Swimming, Basketball, Badminton and Lawn Tennis. She is a Black Belt achiever in Taekwondo (Korean Martial Art) and is also a coach of Kalaripayattu (Indian Martial Art). She is actively associated with the field of Writing (articles), Short films (participated as Lead role) and raising voice on the current social issues.
As a human closely related to her motherland and native Awadhi Culture, she published a book titled "Meri Parnaani Ke Geet" that comprised of a collection of Awadhi Songs sung by the womenfolk of Rural and Urban Uttar Pradesh as a small attempt to preserve the rich cultural heritage of her country. She is actively involved in social work by financing fees and stationary expenses of three unprivileged children studying in Saraswati Shishu Mandir, Lucknow. She has been organizing Charity Shows every year since 2008 for Search Foundation (estbd. in 2000 by Dr. Sarvesh Asthana, works for helpless and needy children) and raised funds for children suffering from major health ailments like Hepatitis B, Blood Cancer or for their academic expenses etc. She has also organized Blood Donation Camps in different parts of the city in association with King George Medical College, U.P. India.